In one of their latest podcast episodes, founder of Dare Be and Career Coach Greg Lemaitre spoke to Jo and Pierre about their entrepreneurial journey and the driving forces behind the creation of Nordic Balance.
Overcoming your fears and taking the plunge – the beginnings of Nordic Balance St James's
During the interview, Jo and Pierre shared their original motivations to start their own business and the importance of prioritising their well-being and family life.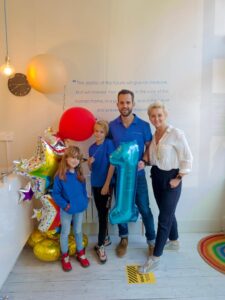 They share their business story, which took them from senior roles in catering and marketing to working as a personal trainer and then creating an immensely popular gym. This led to the foundation of multiple therapy clinics across London- all while juggling family life.
Jo and Pierre's journey started with big risks, but their determination and warm, infectious enthusiasm led them on the path to success. Listen to the full interview over at Dare Be.
The Start of the Journey
Pierre initially studied Finance and Economics at university but realised that the sector just wasn't for him.
When he first moved to London from South Africa, Pierre started working in catering. Jo was also working in the catering industry, which is where the two of them met.
After working in the catering industry for many years, Jo realised that whilst she was good at it, there was no love for the job. Instead, she wished to develop her passion for nutrition and fitness. So, she decided to change focus by re-educating herself as a personal trainer.
Jo built her client base very quickly as a personal trainer and started renting locations across London to host her training sessions.
When the business she was working at collapsed, Jo found herself with lots of clients and nowhere to train them. A client of hers recommended the gym at the Naval (In & Out) in St James's Square, and Jo began running her sessions from their basement gym. This is where the first seeds of Nordic Balance were sown. Even though the gym itself needed a lot of love, Jo offered a thoughtful, personalised experience, and clients kept coming back.
Then, just as they decided to start working for themselves, the Club put it out to tender. Pierre and Jo both saw the opportunity and took the plunge!
Nordic Balance – Born a passion for entrepreneurship and a desire to live a balanced life…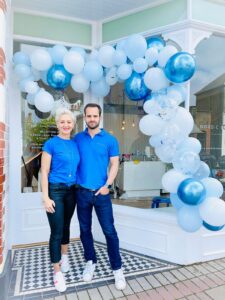 Today, Nordic Balance has grown as a business with a family-run ethos that prides itself on serving the well-being of their clients. This approach has shaped the philosophy and principles of their business.
The culture of Nordic Balance is one of personal support, with sincerity at the heart of it all.
"We want people to feel like they've found something that they're a part of; that they're engaged and feel like they're not just a number." – Pierre, Nordic Balance Director.
The business and services offered remain just as personal as they did when Jo ran her training business all those years ago.
The team know their clients on a one-to-one basis. They make the time for each and every one of them, with their attentive approach spanning everything from celebrating birthdays to knowing clients by name and creating personally tailored plans to maximise their chance of success.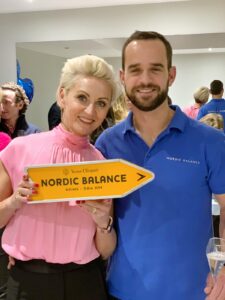 Pierre and Jo have cultivated an exceptionally bespoke service – each client has their targets, be they fitness, health or well-being. Through Nordic Balance's collaborative approach, the entire team are encouraged to work together to help clients achieve their desired results.
When you visit any one of the Nordic Balance locations, you'll likely see Pierre and Jo themselves still hard at it, doing what they love best. They remain the friendly faces welcoming clients in, providing thoughtful advice and helping Londoners prioritise wellness in their day-to-day life.
"To get really great success, it is not even just about the knowledge… It's about pouring your love and real attention into what you're doing… if you enjoy doing what you do, it will be contagious, and people will come to you." – Jo, Nordic Balance Director.
Listen to the full interview over at Dare Be.
About Dare Be
Dare Be is an online platform dedicated to helping people achieve professional development and discover their path to meaningful success.
Dare Be's Find Direction course is a 6-week online programme facilitated by experienced career coaches. It combines deep personal work with weekly group coaching sessions to help you clarify your path towards a brighter life and career.
Exclusive to Nordic Balance, Dare Be is offering a generous £50 discount* on its upcoming courses, which start on the 14th October 2021. Simply enter the code DB+NB when booking. Learn more and book online here. Hurry, the offer ends on October 7th 2021.