Nordic Balance St James's Health Club Relaunches with Expanded Service Experience and Stylish New Look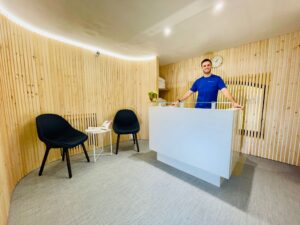 A mainstay of the St James's area, Nordic Balance St James's Health Club, is bouncing back from 18 months of pandemic disruption with a sleek Scandi-inspired refurbishment.
The tranquil oasis, situated within a stunning 330-year-old building, now boasts an even better service experience for those looking to work out and unwind.
The health club's updated layout features a new reception area with a beautiful, natural wood finish, along with a larger, fully equipped gym now kitted out with cutting edge toys like WattBike Atoms, Concept2 Rowers and SkiErgs. In addition, there's a beautiful swimming pool with Fast Lane technology, a sauna, a stretching studio and an expanded natural therapy clinic with four new treatment rooms.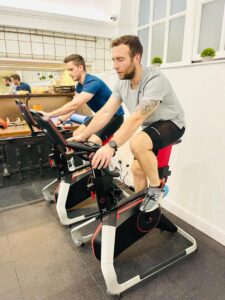 Supported by a highly experienced team of resident personal trainers and therapists, the health club provides clients with everything necessary to achieve their 2022 fitness goals and enhance their bodies and mind.
The team at St James's provides a holistic and intuitive approach to wellbeing, wrapping each person in a circle of care. This integrated approach couples an extensive range of therapies with knowledge and experience to offer training and treatment plans tailored to the individual's needs.
With a wide range of natural therapies, including physiotherapy, osteopathy, chiropractic, sports massage, podiatry and ground-breaking shockwave therapy all available, visitors are sure to leave the health club feeling renewed.
Pierre Meyer, Director at Nordic Balance St James's, says, "We focus on empowering and supporting every client who walks through the door. There's a sense of caring and sincerity at the heart of everything, and this renovation will help us to elevate further what we do and better serve the people of St James's."
To find out more about Nordic Balance St James's Health Club, visit the St James's website.
About Nordic Balance
Nordic Balance is a family run business founded by husband-and-wife Jo and Pierre located in the heart of London. St James's Nordic Balance Health Club provides members with an intimate and tranquil oasis. It is a place where everyone can train, relax, and feel rejuvenated, a sanctuary a world away from the busy city streets just outside.
With a multi-disciplinary team of personal trainers and therapists, the health club offers a truly holistic experience to support, encourage and push every client to lead a fitter, healthier and more balanced life. Members also enjoy access to a swimming pool, spa and squash court.
The health club offers a wide range of therapies, including physiotherapy, osteopathy, chiropractic, podiatry and sports therapy.
Alongside St James's, Nordic Balance offers two injury rehabilitation and wellness clinics on Abbeville Road (SW4) and Wimbledon Village (SW19), both of which are dedicated to providing the best natural therapies for the entire family. Services include Physiotherapy, Osteopathy, Chiropractic, Podiatry, Sports Massage, women's health, pediatric, and ground-breaking Shockwave Therapy (ESWT).